You did it! You survived every interview question! You dazzled them with your experience and you nailed every answer. But then the inevitable moment came when they asked you if you had any questions and you completely froze. Isn't an interview them asking you questions?
Don't let this be the story of your next interview! So many interviewees assume that an interview is just a one-way interaction. You spend hours preparing for what questions they might ask, but not the ones you might ask. In reality, the best interviews are a two-way interaction with carefully crafted questions from both sides. Asking the right questions will not only reinforce your interest, but also allow you to evaluate if the job and company are the best fit for you. Here's how to prepare for the few minutes of the interview where the interviewee turns into the interviewer.
Do Your Homework
You're probably already doing recon before interviews to learn more about the company and your potential future role. All of this research can also help you come up with some killer questions. Go through the company's website, the job listing, and the bio of who is interviewing you.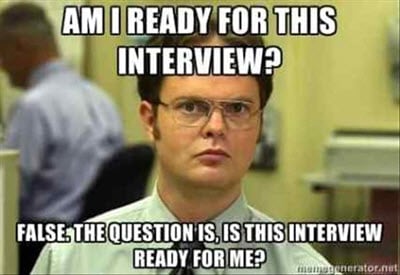 While combing through these materials, make a note of anything you want to learn more about. Remember that while they're evaluating you in an interview, you're also evaluating the opportunity. Write down anything that will help you learn even more about the company and your potential role. Is there a page on company culture that piques your interest on work life balance? Do you want to know more about how your role came to be? Curious about how your interviewer decided on this company?
Draft Questions
Take your notes and start drafting questions to have ready to go. Steer clear of simple yes/no questions and write ones that will evoke insightful answers. Focus on quality over quantity and try coming up with at least 3-4 that will provide you with essential information about the opportunity. Here are some example questions (with reasons why they're great) to get those brainstorming juices flowing:
Can you describe what a typical day looks like for this role? Job descriptions can be vague in a way where you have no idea what the role entails. This question helps clarify what your actual daily work life looks like and shows you're thinking about so much more than just selling your experience in the interview.
In your opinion, what do you think makes someone successful at this role? This is a great one! It shows your interviewer you're interested in being successful (which is exactly what they want in a candidate) and gives you a sense of exactly what you need to succeed.
What are the main departmental goals for this year? This shows your interviewer you're already thinking well beyond your potential role! You'll also learn some critical intel on how your potential role fits into the grand scheme of things.
What brought you to this company and/or position? Put your interviewer on the hot seat and get to know them! This question gives you an inside look into the reasons why someone else chose the company and position. It also shows your interviewer you're genuinely interested in them!
Do you have any hesitations about my qualifications? This question is AMAZING! It gives your interviewer an opportunity to voice any concerns they may have about you and it gives you an opportunity to disprove them. It's a win-win.
What are the next steps? Last but not least, consider asking about the next steps after the interview. This will help fight the post-interview anxiety and give you a clear path forward.
Ask Away
Drafting the questions is only part of the battle. You actually have to ask them now! It may seem nerve-wracking to ask your interviewer questions, but remember it'll help you take your interviewing game to the next level! You'll seem more knowledgeable, prepared, and ready to take on the challenge of this potential role. Channel your professional confidence when the inevitable "do you have any questions?" comes and ask away. It's your turn to be the interviewer!