I know post-grad anxiety is a thing. Transitioning into adulthood after undergrad hit me like a brick wall. You know what I didn't expect to hit me just as hard? Pre-grad anxiety. With a May 2020 graduation date from the Virginia Commonwealth University Brandcenter in the distance, my daily existence has an undercurrent of existential dread. I was blissfully unaware of this sensation while studying my undergraduate degree. I thought you got handed your diploma, easily found your dream job, and everything was perfect. This time around, I know everything is about to change, it's going to be a challenge, and there's just that much more pressure to get it right. As I get closer to the finish line, here's what's stoking my pre-grad anxiety: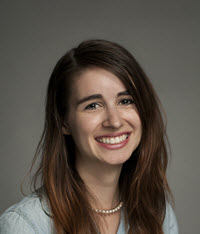 What's happening next is all anyone talks about. I still have five months until graduation. I didn't expect every conversation to be about my post-grad plans already. It comes up both in school as my classmates scope out what agencies everyone has their eyes on and out of school with innocent questions from family and friends. Each question unleashes internal screaming because of the uncertain road ahead. It's no longer like undergrad when people tell you have time to figure it out or suggest backpacking with friends because you're only young once. This time around demands detailed answers.
Everyone has their two cents. Everyone has their two cents about what you should do after you graduate, and they aren't afraid to tell you. Just today I told my professor what type of branding I want to go into, and she seemed less than enthusiastic. My dad over Thanksgiving break discussed the merits of starting my own business. Not only am I expected to know what I want to do after, I feel like there's a constant battle to defend it.
Grad school FOMO is real. I'm constantly asking myself whether or not I took advantage of EVERYTHING my grad school has to offer. Have I talked to all the professors? Should I have done that project differently? What books did I miss out on reading? Did I make enough friends and connections? People always tell you to make the most out of your grad school experience and as I get closer to finishing, I find myself trying to squeeze out every last drop.
Everything in school is that much more intense. Things have gotten intense this semester. First year you were given a grace period to learn. This year everyone expects you to know your skill set and produce work you can talk about during recruiter session. This has led to everyone in our class of 100 knowing who they want to work with and who they don't want to work with. Group projects are higher drama than ever and show no signs of ramping down.
All of this goes to say that approaching the grad school finish line is both celebratory and stressful. Every day at school brings both a moment of pride in how far I've come and a moment of anxiety in wanting to be successful ASAP after graduation. And while this feeling probably won't be resolved anytime soon, I'm overdue for some much-needed self-care over my last ever winter break!