Do you think going to business school might be in your future? It's never too early to start planning ahead. The ideal timeline from when you start researching schools to when you step onto campus on the first day of school spans over a year and a half! It may sound crazy, but you need all that time to do your research, start your applications, take the GMAT, tour the schools, submit your applications, interview, etc. The list goes on and on! But before you feel too overwhelmed, here are a few easy things you can start doing now to secure your spot in the Class of 2022 or beyond:
Help businesses schools find you: You don't always have to be the one doing the heavy lifting in your business school search. By using the Graduate Management Admission Search Service (GMASS), schools can search for YOU. All you need to do is create an account and fill out your profile with your background and interests. You can then learn about programs that match your interests and different financing opportunities. Think of GMASS as a matchmaking service, business school style.
Narrow down your interests: There are business school programs specialized in just about every area of expertise these days. From finance to innovation to marketing, each school offers different types of MBA and master's degrees. In order to jump start your process, do some soul searching and think about your career aspirations and exactly what you want to get out of your degree. Then use our School Search tool to filter and save a list of schools that catch your eye. Don't feel pressured to have a top choice yet. Even narrowing down 500+ programs to 20-30 will be useful to guide your research!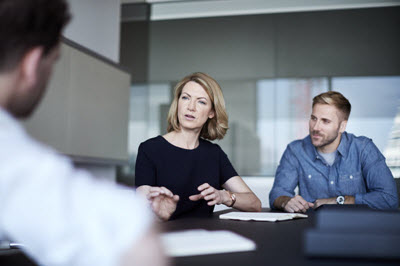 Reach out to admissions directors: Now it's time to start talking to people! Take that list you just made and reach out to admission directors at your favorite programs. Don't be shy in trying to connect, remember that they want to recruit awesome students just as much as you want to get into a great school. When you connect, make sure you have a plan of attack on what you want to know. Consider questions about the culture of the program, financing options, and fit for your industry goals.
Prepare for the GMAT: Taking a test may not be your idea of fun, but the GMAT is an important part of the business school process. In fact, 9 out of 10 new MBA enrollments are made using the GMAT! It's a critical way for admission directors to see if you're up for the rigor of business school. Taking the test is not something you want to do on the fly, so start looking into practice materials, how to register, dates and the closest testing centers to get a head start.
Connect with alumni and current students: It's important to get the insider scoop about your prospective schools. Reach out to any alumni you know or ask admission directors to connect you to current students and alumni. They can help give you perspective on the admissions process, the classroom experience, networking opportunities, the culture of the school, what it's like to attend, and anything else you want to know!
Now step back, take a deep breath, and get ready to embark on the messy, but incredibly rewarding, path to business school!