After doing what feels like countless internships, here I go again! I just finished my first year of graduate school at VCU Brandcenter and I'm currently a Strategy Intern at a strategy and design firm in New York City. Despite feeling like a bit of an elderly intern, I've loved my experience and the city. But it doesn't mean my path to internship bliss was easy. Here are three lessons I learned last year that helped me find the perfect opportunity:
Choose Your Own Adventure
I'm not going to sugarcoat it, finding an internship was excruciating. The process varies by industry and graduate program, but mine involved a combination of constantly checking the school internship board and reaching out to places on my own. It was overwhelming with the amount of options and I was cranking out applications and building comparison spreadsheets like it was my full-time job. But through the process of applying and chatting with faculty, I learned a few things. Choosing an internship is choosing your adventure. Faculty encouraged me to be deliberate with my selection and consider what matters most to me. Just because a good chunk of your classmates might be clamoring for one opportunity, doesn't mean it's the best fit for you. Here are a few things I considered:
Internship program structure: I love ambiguity and trial by fire in learning new things. I deliberately picked a place with a loosely structured program that treats you like an actual associate who is tossed into a project versus somewhere where interns work on intern projects with less real world implications.
Size: I wanted a place where I was one of few interns in a smaller company versus one of many in a larger company. This mattered to me because I wasn't as interested in working with undergrads (no offense to undergrads, just wanted to feel like a grad intern!) and wanted to feel like I was immersed in a team versus placed in an intern corner.
Culture: I definitely have things I value in the workplace and wanted my internship to match them! I looked for an organization that was relatively flat, had a flexible workplace and style, pushed unconventional ideas forward, and fostered talent.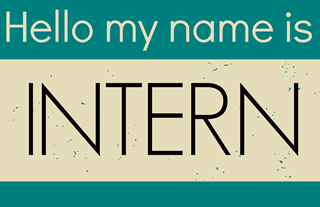 Set Goals
After narrowing down my options, I decided to set some goals. This process ended up helping both me and the companies where I interviewed. I brought my goals up in interviews to help gauge if the opportunity was the right fit for me or not. Through this process, I settled on three main goals. I wanted a place where I could find mentorship, where I could get into real client work versus intern projects (I wanted to leave the "fake" work at school), and where I could be staffed on a project from start to finish. And so far my experience has been check, check, and check because I was clear on what I was looking for at the start!
Try Out a New City
There is absolutely no shame in factoring in location into your internship decision. I did. When I was deciding between two different places, faculty encouraged me to factor in what city I wanted to try on for size. I never thought New York City, a notoriously crowded and overwhelmingly smelly city, would be somewhere I would ever want to live. And now I could easily picture myself here after graduation.
So while I may still be in denial of being an intern for the sixth time, I could not be happier with the opportunity I chose and the chance it's given me to achieve my goals. And who knows, maybe New York City will see me again in May 2020!