Two-time graduate student, Nidhi Mehrotra, made the decision it was time for a career change after working in the software engineering world. Nidihi gives us insight into what it was like to move to another country, complete her second graduate degree, and how it has impacted her career today.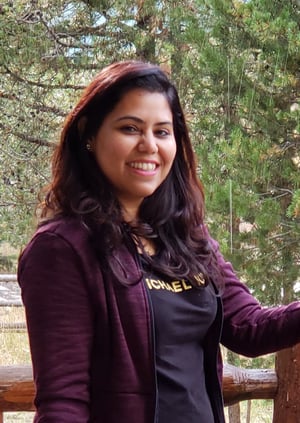 What was your undergrad background, and when did you decide to get your first graduate degree?
My bachelors was completed in India. I completed three years of Information Technology courses and then I started my first job. At my job, I received an opportunity to get my first masters degree as my company sponsored a Masters in Software Engineering from one of the most reputable colleges in India, BITS Pilani. I thought "Why not? I'll gain experience and study at the same time". So while working with my company I completed my first masters degree. For four years, I worked full-time and attended classes on the weekends. It made me strong and helped me accelerate in my career.
At what point did you know it was time for a career change?
After six years, I came to the United States to work with different clients. I was working at AT&T as a data analyst, but my formal degree was in software engineering. While I was working in this role, data analytics and data science became a new skill set that was in high demand. Even though I had the opportunity to work in this area, I felt that I didn't have the right skills and that I needed to upgrade myself to fit the new trends happening in the workplace today. So rather than taking courses online, I thought it might be a good idea to purse a formal degree. So I quit my job and enrolled in my second masters program at George Mason University in data analytics. The second master's helped me pivot my career to what's in demand in the industry today.
Did you experience any differences doing your first masters in India versus the second one in the United States?
During my second master's, I wasn't working at a job, I was a full-time student. I did not want to do the part-time experience again. It was a lot different because I could fully concentrate on what I was studying, and I could devote my time doing extra things like exploring topics outside of my curriculum on my own. There were some cultural differences I experienced in the US, for example students are expected to network and socialize to find new projects and jobs. My US program had a slightly more project-based curriculum versus my master's in India, which was slightly more academic focused. Each program has its pros and cons.
How have your Master degrees impacted your career?
My degrees helped me to switch into the career that I am in now. The role I have now is exactly fitted to what I spent the last two years studying. What I studied is in demand in the market today and it's going to be for the next 15 years, data analytics and data science is not going anywhere. It opened my career path, and it opened my boundaries to live and work abroad. I have been to New Zealand, Oakland, California and Atlanta, Georgia to work on projects for three months at a time, and it's all because of what I studied and what I learned and it had a big impact on my career.
What advice would you give to future graduate students?
Don't worry about paying for your degree, you can always work it out with the universities. I have observed so many international students in classes and it seemed like everyone was able to get a teaching assistant position to help offset the cost of their program. I would also recommend doing your research and finding a program that will really benefit you and your career goals. As far as whether or not you should invest the extra two years to study something new, it's all worth it in the end, if you're not satisfied in what you are doing right now in your career, just do it!