Since starting BeenThere in 2017, Founders Colin Keeler and Cara Morphew have been busy. They've both graduated from their respective business school programs this year (Colin from Wharton and Cara from Kellogg) and have continued to grow their online platform connecting business school applicants to mentors. Learn about their exciting company updates, how they measure the pulse of business school culture, and how business school helped them along the way.
What's new with BeenThere?
Colin: We've made a lot of exciting changes recently! We just launched a new website. We're excited about it because it has new features that enhance the mentors' and applicants' experiences such as a chat feature, shared file feature, and a more robust login.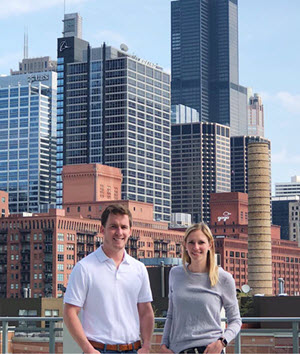 We also just launched our MBA Culture and Classroom Report. This is focused on M7 business schools, a historical group of top schools. We surveyed 500 current MBAs from those programs to get their perspectives on the culture and classroom. It was a big hit! A ton of mentors and applicants came to us after reading our report. We feel like our report provides perspective and data that hadn't really been accessed before. That's a huge part of how we see our value by providing the perspective of students that is otherwise really hard to get. We're releasing the next report later this summer that will include even more top programs.
And most importantly, the results side! Our reported success rates went above and beyond our expectations. We had a 90%+ acceptance rate to at least one of the applicants' top three schools and applicants received an average $25,000 in scholarship money.
Cara: Another thing is we're starting to move into the career space now that we have over 200 mentors across the top 25 programs from a diverse set of backgrounds. We're connecting these mentors to undergraduates who are looking for their first job or who are potentially a couple years out of undergrad and want to switch careers. The thought process there is that we can connect earlier in applicants' careers, they use us a few years later when they're applying to business school, and then they eventually become a mentor.
How did you measure the culture at business schools?
Colin: The survey measured different delineations of culture, such as competitive versus collaborative or party versus professional. We asked survey respondents to score their school based on a 1-7 scale. On top of that, we used free response questions to understand the definitional pieces that underlie the numbers that we received in the first part of the report. We learned a lot about what people loved about their schools and different areas where they think their schools could improve.
How has business school helped shape BeenThere?
Cara: I think for me it's been a combination of classes and extracurricular activities. I was part of a mini-accelerator program called Zell Fellows at Kellogg. If you get in, you receive $10,000 for your business, meet weekly with a cohort of other entrepreneurs, and get access to different types of resources. Through this program, we got access to a design team, met with venture capitalists, and worked with a lawyer. Beyond that, I've been a part of a couple pitch presentations and classes, such as New Venture Launch, focused on evolving your business. These classes are a very hands-on in small groups and focused on helping you develop your business over time.

Colin: There's also a benefit of just being in our business school communities. Mentors at our own schools consistently referred us to mentors at other schools. Also, every business school student is a business analyst in a way and has their own advice and thoughts on what you should be doing with your business. Those perspectives have sometimes been immensely valuable in developing where we've decided to head with our business.
Now that you've graduated, is this what you're pursuing full-time?
Colin: That's the plan! We're both pursuing this full-time and are in the process of raising money. We're headquartered out of Chicago and will be working out of 1871, which is the center of the start-up community. We're excited to expand and grow our team