Colin Keeler and Cara Morphew, Co-Founders of BeenThere, have been through it all when it comes to the MBA application process. They've assessed the best MBA programs for their goals, painstakingly completed applications, and went on countless interviews all while wishing there was an affordable option to simplify the process.
Colin and Cara founded BeenThere to be that missing piece for future applicants. BeenThere connects prospective MBA students with current students at top universities to mentor them through the challenging application process.
What drove you to help prospective MBA students with BeenThere?
Cara: It was pretty obvious to both of us there was a need. Colin helped me quite a bit with my applications since he had applied the year before. I didn't have a lot of people I felt comfortable enough with who had gone through the process and could really give me one-on-one advice. If I hadn't had Colin working with me through this process, I'm not sure what I would have done. And I think that's applicable to many of the more nontraditional backgrounds applying to business school. Applicants in industries like government, advertising, or technology don't necessarily have the resources available to those in consulting or banking to help with a truly complex, nuanced application process.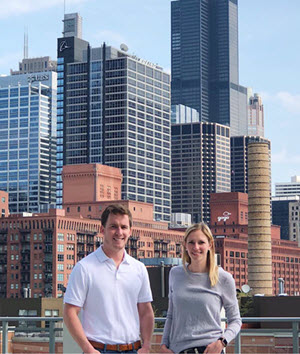 Colin: In my own personal experience, I was fortunate enough to have a co-worker who was class president at Wharton engage with me. Cara and I both realized the value of current students who have immense perspective. The concept was essentially that we could pair current students with applicants who have similar backgrounds and goals in order to reduce the friction of the application process. We want to make the whole thing more manageable so people spend less time freaking out about how they're going to get into school and more time thinking about what school is right for them. One of our core goals is building a really accessible resource because we truly think there's such power in the MBA.
In your experience, what do you think prospective MBA students struggle with the most during the application process?
Colin: The first thing is differentiating between schools. People tend to look towards the ranking and there's a lot of 'oh, this is the best name brand – I have to go here'. If people go solely off that, they'll end up dissatisfied because there are so many differences between schools. Schools tend to speak about themselves in very similar ways, but the actual reality is schools can vary pretty dramatically in cultural and academic nuances.
Cara: I think a huge goal of ours is helping people put in a little more thought in terms of what schools they're looking at. All these schools have good programs; they all provide so many opportunities. When it comes down to it, you're probably going to have a good experience at any top-tier MBA program. I don't know that people always know how much they differ culturally, though. With BeenThere, if you're working with a few different mentors, you'll be able to determine whether or not you connect with them or if you could see them as your classmate to help narrow down which schools you'll feel the most comfortable at.
What are some of your key pieces of advice for students considering business school?
Cara: As you're starting the application process and doing campus visits, it's easy to become consumed with how to impress admissions directors instead of taking the time to assess whether you actually like or feel comfortable at that school. I applied to Michigan (Ross School of Business) thinking I would like it, but wasn't sure. I ended up visiting before my interview and loved it. I enjoyed the people I met and experiences I had, which made my interview much more natural. It's a two way street. You may think you're just trying to impress them, but they're trying to sell you on their program as well. It's important to really consider what you want and what's best for you during the application process.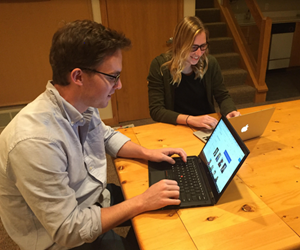 Colin: Enter with a plan. Coming in with an idea of why you're going is so crucial because you will get overwhelmed so quickly at business school. It's an unbelievable environment to be in. You're surrounded by brilliant people with a diversity of backgrounds, brilliant professors, and incredible opportunities. Having a plan of what you want to get out of school, whether it's personal, social, professional, or academic, and delineating those goals clearly is the recipe for success. That firm understanding of yourself and why you're going lends to incredibly more effective applications. You need to weave in the story of what makes you qualified and talented, as well as your motivation and goals. That's what schools really want to understand.
Learn more about BeenThere's innovative platform and what you should consider to rock your own future MBA application.